Hello everyone!
One book I've recently read (make that twice!) is Unlikely Allies  by Tiffany King. This YA novel is a sweet teen romance with a bit of self-discovery thrown in there. I quickly consumed this book in one sitting!
The novel starts off with a very upset Kimberly who just found out her dead father was indeed alive and living out in the Colorado Rocky Mountains. To add even more drama, Kim's dad never even knew she existed! Now mad at her mom and
seeking desperately to fill the father void, Kim set out to spend the summer before her first year at college with her dad in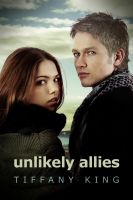 Colorado. But this California "beach bunny" is in for a ride in this mountain terrain!
Mason is an arrogant nineteen-year-old Greek god (okay not really, but he sure is hot enough to be one!) and he's made it his mission to make Kimberly feel very inadequate at her new job. Although Kimberly can't stand his attitude and is determined to prove him wrong, she can't help also feeling the attraction between the two of them!Not only does Kimberly arrive without proper clothing to fight off the cold weather, she learns that her father runs a summer foster camp for underprivileged kids and she's going to be a camp counselor. But on top of learning the ropes of all her new duties, adjusting to mountain life, and trying to get to know her dad, Kim's biggest challenge is Mason!
This novel brings readers on a whirlwind adventure. Not only do readers watch as Kimberly learns more about who she is with a budding relationship with her father, but readers also witness an internal growth as she changes from her new surroundings. Alongside this is a fun lighthearted romance between two characters that has most readers driven to this novel to begin with.
What I loved most about this story was the realistic progression of events. After the characters, Kimberly and Mason, face a very large and somewhat disastrous event they both come out the other end realistically. Not everything in life goes right and I think King did a wonderful job making the book and it's ending realistic with the chain of events.
I also loved Kimberly as the heroin. I loved seeing her progression of change as she began to see herself as a survivor and not as "helpless" as a "beach bonny" would be. I also loved watching her relationship with her dad grow in the novel and they way she dealt with her mother who had lied to her. It was also great reading about Kimberly's love of art and her interaction with the campers. They were  great details to her character that I enjoyed. Kimberly really came off the page as a well-rounded developed character. King also displayed this with most of her supporting characters as well.
With this novel, although it was mainly for me a nice easy teen romance novel, I also found myself really appreciating the underlying growth that the character went through as well as the reality of the novel as I mentioned before. Time and time again most novels read as non-realistic or even predictable. King definitely created a world where I believed in the chain of events and fell in love with the characters. I was surprised that she went through with the ending she did and that is what made me love this book the most!
I recommend trying out the book if you haven't already. It was very inexpensive in the Amazon Kindle Store if you happen to have an e-reader.
Happy Reading!
xo,
NicoleLynn
Have you read Unlikely Allies? Did you like Kimberly and Mason's relationship? Did you find the novel realistic or predictable? Are you going to read the novel now? Let us know your thoughts in the comments below or tweet us @PopCrunchBoom or with the hashtag #PCBReaders!